Aegean Sponge Company, established in the late 1940's, is family owned (and run). The owner, George Psarras, immigrated to the United States from Limnos, a small Greek island situated in the north Aegean Sea.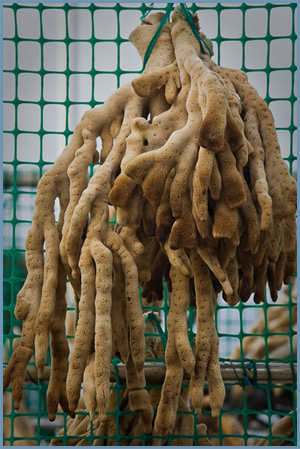 George and his three brothers dove for sponges in the Aegean, Mediterranean and Black Seas. They later supplied these natural sponges to Limnos, as well as many cities in Greece and other countries throughout Europe.

George, seeking better opportunities for himself and his family, left Greece in the early 50's and came to America. His brothers shipped the natural sponges to America, which he began selling across the U.S.A.

Still very active in the business he started, George and his family continue to import natural sponges from Greece, the Bahamas, Florida Keys and Philippines. They also manufacture synthetic/ hydra sponges in Greece, which are then imported and sold across the United States.
Our thanks to Tina Bucuvalas and the City of Tarpon Springs for the photos which they have graciously allow us to use on this website!